About Us
Jai Ho is a Indian takeaway in High Wycombe. Why don't you try our Pathia or Kashmiri?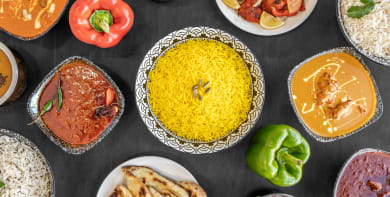 Reviews
297 reviews
Victoria
"Amazing food, early delivery, we are huge Indian food fanatics and this take away was probably one of the most authentic we have ever tried in the UK."
18/04/2021
Emma
"Tasty food, friendly and on time delivery - would recommend!"
13/04/2021
Daren
"Delicious and very friendly delivery driver."
10/04/2021
Kelly
"Great food, nice, fresh & hot"
01/04/2021
Menu
Akbari Lamb Chop
Juicy lamb chops marinated with herbs, tandoori spices barbecued in a clay oven
£4.95
Chicken Pakora Starter
Shallow fried chicken mixed with spices & herbs
£3.95
Dry Chat
Tandoori baked cubes of chicken breast mixed with onion, tomato & chaat spice, served with crispy bread
£3.95
Chilli Paneer
Stir fried cheese with sweet juicy peppers, spring onions & green chillies, served with chef's special sauce
Hot
£4.50
Fish Pakora Starter
Shallow fried fish mixed with spices & herbs, coated with gram flour
£3.95
Fish Tikka Starter Monk
Succulent pieces of monk or salmon fish with mildly spiced cooked in clay oven
£6.25
Fish Tikka Starter Salmon
Succulent pieces of monk or salmon fish with mildly spiced cooked in clay oven
£6.25
Harialy Tikka Starter
Succulent pieces of chicken marinated with fresh green herbs cooked in tandoori oven
£3.95
King Prawn Butterfly
King prawn shallow fried with breadcrumbs
£5.55
King Prawn Suka
King prawn with shells in sweet & sour sauce
£5.75
Mixed Kebab
Nawabi kebab, chicken tikka, harialy tikka
£5.75
Mixed Starter
Shish kebab, onion bhaji, dry chaat, fish pakora
£5.95
Nawabi Kebab
Minced chicken with onion, fresh garlic, coriander leaves & fresh herbs skewered & grilled in a clay oven
£3.95
Vegetable Mixed Starter
Chana chaat, vegetable samosa, onion bhaji, paneer pakora
£4.75
Tandoori King Prawn Starter
Marinated king prawn cooked in clay oven
£5.95
Saag - King Prawn
Cooked with spinach, medium spiced
£10.95
Chicken Tikka Massala
Contains nuts
£8.75
Garlic Chicken
Medium spiced with garlic
£8.95
Garlic Lamb
Medium spiced with garlic
£8.95
Butter Chicken
Contains nuts
£8.75
Anarash Chicken
Medium spiced cooked with pineapple
£9.50
Anarash Lamb
Medium spiced cooked with pineapple
£9.50
Apna Posond Duck
Cooked in a delicately flavoured medium sauce with Oriental herbs & spices
£11.75
Keema Kazana
Fresh minced lamb & peas cooked with authentic spice
£9.50
Murug Massala
Spring chicken & minced lamb cooked in a mild sauce with almonds, fresh coriander mixed together with an exotic blend of herbs & spices
Contains nuts
£9.95
Passanda - Chicken
Contains nuts
£8.75
Pasanda - Lamb
Contains nuts
£8.75
Sikandori Lamb
Exotic Indian dish marinated in herbs & spices roasted in the oven, cooked with potatoes & masala sauce
£9.50
Spicy Chicken Tikka Massala
Contains nuts
Hot
£8.95
Tamarind Chicken
Combination of sweet & sour flavoured sauce
£9.50
Tamarind Lamb
Combination of sweet & sour flavoured sauce
£9.50
Shatkara Chicken
An authentic dish from Bangladesh, cooked with lightly flavoured lemon
£9.50
Shatkara Lamb
An authentic dish from Bangladesh, cooked with lightly flavoured lemon
£9.50
Pudina Chicken
Goan style chicken curry with fresh mint & coriander
£9.50
Rajasthan Special Duck
Breast of duck with onion, ginger & garlic, cooked in a creamy coconut milk with light gram masala
£11.75
Roshni Miric Massala Chicken
Cooked with Bangladeshi hot chilli naga pickle & other exotic spices
Hot
£9.50
Roshni Miric Massala Lamb
Cooked with Bangladeshi hot chilli naga pickle & other exotic spices
Hot
£9.50
Tandoori Chicken Mixed Grill
Chicken tikka, harialy tikka, nawabi kebab & tandoori chicken
£8.95
Tandoori Chicken Shashlik
Marinated chicken cooked in tandoori with spicy green peppers, tomatoes & onions
£8.50
Tandoori Fish Mixed Grill
Monk fish, salmon fish, tandoori king prawn & fish pakora
£13.95
Tandoori Mixed Grill
A mixer of five different Indian tandoori specialities
£10.45
Monk Fish Salon
Monkfish fillets grilled & then cooked in a rich masala sauce
£12.75
Seafood Mazader
An infusion of prawn, king prawn, monkfish, salmon fish cooked in our chef's speciality stock, a medium blend of bhuna spices & herbs
£12.75
Green Salmon
Dipped in a blend of spices with garlic & red chillies topped with baby spinach
Hot
£11.75
King Prawn Special
Stir Fried king prawn prepared in a subtle sauce of herbs & spices with onions, tomatoes, garlic & ginger
£11.95
Goan Fish Curry
Monkfish & coconuts cooked in a combination of coriander, cumin, turmeric, red chilli & slice of green chillies with tamarind & coconut milk
£12.75
Special Fried Rice
Cooked with eggs & peas
£3.25
Keema Rice
Cooked with lamb mince
£3.25
Chana Massala
Chickpeas cooked with ginger & other exotic spices
£3.95
Aloo Gobi
Potato & cauliflower tossed with spices
£3.95
Motor Paneer
Cheese & peas cooked in mild sauce
£3.95
Mixed Vegetable Curry
Selection of fresh vegetables cooked in a medium curry sauce
£3.95
Tarka Dall
Mixed lentils with garlic flavour
£3.95
Sag Aloo
Spinach & potato
£3.95
Sag Bhaji
Spinach with roasted garlic
£3.95
Saag Paneer
Spinach & cheese cooked in mild sauce
£3.95
Niramish
Stir fried mixed vegetables
£3.95
Plain Curry Chicken
Cooked in a light spiced sauce
£7.50
Plain Curry Chicken Tikka
Cooked in a light spiced sauce
£7.95
Plain Curry Duck
Cooked in a light spiced sauce
£10.95
Plain Curry King Prawn
Cooked in a light spiced sauce
£10.95
Plain Curry Lamb
Cooked in a light spiced sauce
£7.95
Plain Curry Prawn
Cooked in a light spiced sauce
£8.25
Plain Curry Vegetable
Cooked in a light spiced sauce
£5.95
Saag Chicken
Cooked with spinach, medium spiced
£7.50
Saag Chicken Tikka
Cooked with spinach, medium spiced
£7.95
Saag Duck
Cooked with spinach, medium spiced
£10.95
Saag King Prawn
Cooked with spinach, medium spiced
£10.95
Saag Lamb
Cooked with spinach, medium spiced
£7.95
Saag Prawn
Cooked with spinach, medium spiced
£8.25
Saag Vegetable
Cooked with spinach, medium spiced
£5.95
Rogan Josh Chicken
Cooked with fresh glazed tomatoes & onion, medium spiced
£7.50
Rogan Josh Chicken Tikka
Cooked with fresh glazed tomatoes & onion, medium spiced
£7.95
Rogan Josh Duck
Cooked with fresh glazed tomatoes & onion, medium spiced
£10.95
Rogan Josh King Prawn
Cooked with fresh glazed tomatoes & onion, medium spiced
£10.95
Rogan Josh Lamb
Cooked with fresh glazed tomatoes & onion, medium spiced
£7.95
Rogan Josh Prawn
Cooked with fresh glazed tomatoes & onion, medium spiced
£8.25
Rogan Josh Vegetable
Cooked with fresh glazed tomatoes & onion, medium spiced
£5.95
Vindaloo Chicken
Very hot & spicy with potatoes
Very hot
£7.50
Vindaloo Duck
Very hot & spicy with potatoes
Very hot
£10.95
Vindaloo King Prawn
Very hot & spicy with potatoes
Very hot
£10.95
Vindaloo Lamb
Very hot & spicy with potatoes
Very hot
£7.95
Vindaloo Prawn
Very hot & spicy with potatoes
Very hot
£8.25
Vindaloo Vegetable
Very hot & spicy with potatoes
Very hot
£5.95
Phall Chicken
Extremely hot
£7.50
Phall Chicken Tikka
Extremely hot
£7.95
Phall King Prawn
Extremely hot
£10.95
Phall Prawn
Extremely hot
£8.25
Phall Vegetable
Extremely hot
£5.95
Pathia Chicken
Hot, sweet & sour
Hot
£7.50
Pathia Chicken Tikka
Hot, sweet & sour
Hot
£7.95
Pathia Duck
Hot, sweet & sour
Hot
£10.95
Pathia King Prawn
Hot, sweet & sour
Hot
£10.95
Pathia Lamb
Hot, sweet & sour
Hot
£7.95
Pathia Prawn
Hot, sweet & sour
Hot
£8.25
Pathia Vegetable
Hot, sweet & sour
Hot
£5.95
Kashmiri Chicken
Cooked in a fruity, creamy sauce
Contains nuts
£7.50
Kashmiri Chicken Tikka
Cooked in a fruity, creamy sauce
Contains nuts
£7.95
Kashmiri Duck
Cooked in a fruity, creamy sauce
Contains nuts
£10.95
Kashmiri King Prawn
Cooked in a fruity, creamy sauce
Contains nuts
£10.95
Kashmiri Lamb
Cooked in a fruity, creamy sauce
Contains nuts
£7.95
Kashmiri Prawn
Cooked in a fruity, creamy sauce
Contains nuts
£7.95
Kashmiri Vegetable
Cooked in a fruity, creamy sauce
Contains nuts
£5.95
Madras Chicken
Fairly hot curry
Hot
£7.50
Madras Chicken Tikka
Fairly hot curry
Hot
£7.95
Madras Duck
Fairly hot curry
Hot
£10.95
Madras King Prawn
Fairly hot curry
Hot
£10.95
Madras Lamb
Fairly hot curry
Hot
£7.95
Madras Prawn
Fairly hot curry
Hot
£8.25
Madras Vegetable
Fairly hot curry
Hot
£5.95
Korma Chicken
Cooked in a mild, rich, thick sauce with cream & coconut
Contains nuts
£7.50
Korma Chicken Tikka
Cooked in a mild, rich, thick sauce with cream & coconut
Contains nuts
£7.95
Korma Duck
Cooked in a mild, rich, thick sauce with cream & coconut
Contains nuts
£10.95
Korma King Prawn
Cooked in a mild, rich, thick sauce with cream & coconut
Contains nuts
£10.95
Korma Lamb
Cooked in a mild, rich, thick sauce with cream & coconut
Contains nuts
£7.95
Korma Prawn
Cooked in a mild, rich, thick sauce with cream & coconut
Contains nuts
£8.25
Korma Vegetable
Cooked in a mild, rich, thick sauce with cream & coconut
Contains nuts
£5.95
Bhuna Chicken
Cooked in a thick sauce with tomatoes & coriander, medium strength
£7.50
Bhuna Chicken Tikka
Cooked in a thick sauce with tomatoes & coriander, medium strength
£7.95
Bhuna Duck
Cooked in a thick sauce with tomatoes & coriander, medium strength
£10.95
Bhuna King Prawn
Cooked in a thick sauce with tomatoes & coriander, medium strength
£10.95
Bhuna Lamb
Cooked in a thick sauce with tomatoes & coriander, medium strength
£7.95
Bhuna Prawn
Cooked in a thick sauce with tomatoes & coriander, medium strength
£8.25
Bhuna Vegetable
Cooked in a thick sauce with tomatoes & coriander, medium strength
£5.95
Bombay Chicken
Medium spiced curry, cooked with potatoes, boiled egg & fresh coriander
£7.50
Bombay Chicken Tikka
Medium spiced curry, cooked with potatoes, boiled egg & fresh coriander
£7.95
Bombay Duck
Medium spiced curry, cooked with potatoes, boiled egg & fresh coriander
£10.95
Bombay King Prawn
Medium spiced curry, cooked with potatoes, boiled egg & fresh coriander
£10.95
Bombay Lamb
Medium spiced curry, cooked with potatoes, boiled egg & fresh coriander
£7.95
Bombay Prawn
Medium spiced curry, cooked with potatoes, boiled egg & fresh coriander
£8.25
Bombay Vegetable
Medium spiced curry, cooked with potatoes, boiled egg & fresh coriander
£5.95
Balti Chicken
Balti dishes are prepared with an exotic selection of fresh spices & herbs, providing a dish with thicker & richer distinctive flavour
£7.50
Balti Chicken Tikka
Balti dishes are prepared with an exotic selection of fresh spices & herbs, providing a dish with thicker & richer distinctive flavour
£7.95
Balti Duck
Balti dishes are prepared with an exotic selection of fresh spices & herbs, providing a dish with thicker & richer distinctive flavour
£10.95
Balti King Prawn
Balti dishes are prepared with an exotic selection of fresh spices & herbs, providing a dish with thicker & richer distinctive flavour
£10.95
Balti Lamb
Balti dishes are prepared with an exotic selection of fresh spices & herbs, providing a dish with thicker & richer distinctive flavour
£7.95
Balti Prawn
Balti dishes are prepared with an exotic selection of fresh spices & herbs, providing a dish with thicker & richer distinctive flavour
£8.25
Balti Vegetable
Balti dishes are prepared with an exotic selection of fresh spices & herbs, providing a dish with thicker & richer distinctive flavour
£5.95
Dansak Chicken
Hot, sweet & sour cooked with lentils
Hot
£7.50
Dansak Chicken Tikka
Hot, sweet & sour cooked with lentils
Hot
£7.95
Dansak Duck
Hot, sweet & sour cooked with lentils
Hot
£10.95
Dansak King Prawn
Hot, sweet & sour cooked with lentils
Hot
£10.95
Dansak Lamb
Hot, sweet & sour cooked with lentils
Hot
£7.95
Dansak Prawn
Hot, sweet & sour cooked with lentils
Hot
£8.25
Dansak Vegetable
Hot, sweet & sour cooked with lentils
Hot
£5.95
Dupiaza Chicken
Cooked in a thick sauce with fried onion, medium spiced
£7.50
Dupiaza Chicken Tikka
Cooked in a thick sauce with fried onion, medium spiced
£7.95
Dupiaza Duck
Cooked in a thick sauce with fried onion, medium spiced
£10.95
Dupiaza King Prawn
Cooked in a thick sauce with fried onion, medium spiced
£10.95
Dupiaza Lamb
Cooked in a thick sauce with fried onion, medium spiced
£7.95
Dupiaza Prawn
Cooked in a thick sauce with fried onion, medium spiced
£8.25
Dupiaza Vegetable
Cooked in a thick sauce with fried onion, medium spiced
£5.95
Vindaloo Chicken Tikka
Very hot & spicy with potatoes
Very hot
£7.95
Wednesday Banquet - Regular
£11.95
Wednesday Banquet - Seafood
Lunch & dinner
4 Course meal
Poppadom
Starter
Main dish
Rice or naan
£14.94
Keema Nan
Stuffed with mince meat
£2.65
Malai Keema Nan
Cheese, onion & mince meat
£2.75
Peshwari Nan
Coconut & almond
Contains nuts
£2.65
Nawabi Nan
Stuffed with mince chicken
£2.65
Contact Us
Find Us
2 Hazlemere Cross Roads, High Wycombe, HP157LG
We deliver to
HP10, HP11, HP12, HP13, HP15, HP16, HP6