About Us
Jai Ho is a Indian takeaway in High Wycombe. Why don't you try our Pathia or Kashmiri?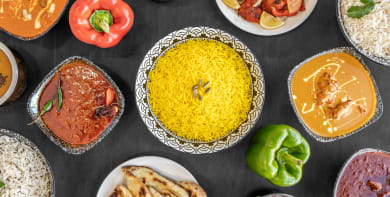 Reviews
256 reviews
Robert
"Always spot on fantastic food."
06/08/2020
Rosalind
"Best curry in the area, always a good meal from Jai Ho"
01/08/2020
Lukasz
"Fantastic!Finally place I was looking for. Definitely will be ordering again!!"
26/07/2020
Darren
"Food was really enjoyable, only thing I was disappointed with was they did not pass on the reduction for the vat cut."
15/07/2020
Menu
Akbari Lamb Chop
Juicy lamb chops marinated with herbs, tandoori spices barbecued in a clay oven
£4.95
Chicken Pakora Starter
Shallow fried chicken mixed with spices & herbs
£3.95
Dry Chat
Tandoori baked cubes of chicken breast mixed with onion, tomato & chaat spice, served with crispy bread
£3.95
Chilli Paneer
Stir fried cheese with sweet juicy peppers, spring onions & green chillies, served with chef's special sauce
Hot
£4.50
Fish Pakora Starter
Shallow fried fish mixed with spices & herbs, coated with gram flour
£3.95
Fish Tikka Starter Monk
Succulent pieces of monk or salmon fish with mildly spiced cooked in clay oven
£6.25
Fish Tikka Starter Salmon
Succulent pieces of monk or salmon fish with mildly spiced cooked in clay oven
£6.25
Harialy Tikka Starter
Succulent pieces of chicken marinated with fresh green herbs cooked in tandoori oven
£3.95
King Prawn Butterfly
King prawn shallow fried with breadcrumbs
£5.55
King Prawn Suka
King prawn with shells in sweet & sour sauce
£5.75
Mixed Kebab
Nawabi kebab, chicken tikka, harialy tikka
£5.75
Mixed Starter
Shish kebab, onion bhaji, dry chaat, fish pakora
£5.95
Nawabi Kebab
Minced chicken with onion, fresh garlic, coriander leaves & fresh herbs skewered & grilled in a clay oven
£3.95
Vegetable Mixed Starter
Chana chaat, vegetable samosa, onion bhaji, paneer pakora
£4.75
Tandoori King Prawn Starter
Marinated king prawn cooked in clay oven
£5.95
Saag - King Prawn
Cooked with spinach, medium spiced
£10.95
Chicken Tikka Massala
Contains nuts
£8.75
Garlic Chicken
Medium spiced with garlic
£8.95
Garlic Lamb
Medium spiced with garlic
£8.95
Butter Chicken
Contains nuts
£8.75
Anarash Chicken
Medium spiced cooked with pineapple
£9.50
Anarash Lamb
Medium spiced cooked with pineapple
£9.50
Apna Posond Duck
Cooked in a delicately flavoured medium sauce with Oriental herbs & spices
£11.75
Keema Kazana
Fresh minced lamb & peas cooked with authentic spice
£9.50
Murug Massala
Spring chicken & minced lamb cooked in a mild sauce with almonds, fresh coriander mixed together with an exotic blend of herbs & spices
Contains nuts
£9.95
Passanda - Chicken
Contains nuts
£8.75
Pasanda - Lamb
Contains nuts
£8.75
Sikandori Lamb
Exotic Indian dish marinated in herbs & spices roasted in the oven, cooked with potatoes & masala sauce
£9.50
Spicy Chicken Tikka Massala
Contains nuts
Hot
£8.95
Tamarind Chicken
Combination of sweet & sour flavoured sauce
£9.50
Tamarind Lamb
Combination of sweet & sour flavoured sauce
£9.50
Shatkara Chicken
An authentic dish from Bangladesh, cooked with lightly flavoured lemon
£9.50
Shatkara Lamb
An authentic dish from Bangladesh, cooked with lightly flavoured lemon
£9.50
Pudina Chicken
Goan style chicken curry with fresh mint & coriander
£9.50
Rajasthan Special Duck
Breast of duck with onion, ginger & garlic, cooked in a creamy coconut milk with light gram masala
£11.75
Roshni Miric Massala Chicken
Cooked with Bangladeshi hot chilli naga pickle & other exotic spices
Hot
£9.50
Roshni Miric Massala Lamb
Cooked with Bangladeshi hot chilli naga pickle & other exotic spices
Hot
£9.50
Tandoori Chicken Mixed Grill
Chicken tikka, harialy tikka, nawabi kebab & tandoori chicken
£8.95
Tandoori Chicken Shashlik
Marinated chicken cooked in tandoori with spicy green peppers, tomatoes & onions
£8.50
Tandoori Fish Mixed Grill
Monk fish, salmon fish, tandoori king prawn & fish pakora
£13.95
Tandoori Mixed Grill
A mixer of five different Indian tandoori specialities
£10.45
Monk Fish Salon
Monkfish fillets grilled & then cooked in a rich masala sauce
£12.75
Seafood Mazader
An infusion of prawn, king prawn, monkfish, salmon fish cooked in our chef's speciality stock, a medium blend of bhuna spices & herbs
£12.75
Green Salmon
Dipped in a blend of spices with garlic & red chillies topped with baby spinach
Hot
£11.75
King Prawn Special
Stir Fried king prawn prepared in a subtle sauce of herbs & spices with onions, tomatoes, garlic & ginger
£11.95
Goan Fish Curry
Monkfish & coconuts cooked in a combination of coriander, cumin, turmeric, red chilli & slice of green chillies with tamarind & coconut milk
£12.75
Special Fried Rice
Cooked with eggs & peas
£3.25
Keema Rice
Cooked with lamb mince
£3.25
Chana Massala
Chickpeas cooked with ginger & other exotic spices
£3.95
Aloo Gobi
Potato & cauliflower tossed with spices
£3.95
Motor Paneer
Cheese & peas cooked in mild sauce
£3.95
Mixed Vegetable Curry
Selection of fresh vegetables cooked in a medium curry sauce
£3.95
Tarka Dall
Mixed lentils with garlic flavour
£3.95
Sag Aloo
Spinach & potato
£3.95
Sag Bhaji
Spinach with roasted garlic
£3.95
Saag Paneer
Spinach & cheese cooked in mild sauce
£3.95
Niramish
Stir fried mixed vegetables
£3.95
Plain Curry Chicken
Cooked in a light spiced sauce
£7.50
Plain Curry Chicken Tikka
Cooked in a light spiced sauce
£7.95
Plain Curry Duck
Cooked in a light spiced sauce
£10.95
Plain Curry King Prawn
Cooked in a light spiced sauce
£10.95
Plain Curry Lamb
Cooked in a light spiced sauce
£7.95
Plain Curry Prawn
Cooked in a light spiced sauce
£8.25
Plain Curry Vegetable
Cooked in a light spiced sauce
£5.95
Saag Chicken
Cooked with spinach, medium spiced
£7.50
Saag Chicken Tikka
Cooked with spinach, medium spiced
£7.95
Saag Duck
Cooked with spinach, medium spiced
£10.95
Saag King Prawn
Cooked with spinach, medium spiced
£10.95
Saag Lamb
Cooked with spinach, medium spiced
£7.95
Saag Prawn
Cooked with spinach, medium spiced
£8.25
Saag Vegetable
Cooked with spinach, medium spiced
£5.95
Rogan Josh Chicken
Cooked with fresh glazed tomatoes & onion, medium spiced
£7.50
Rogan Josh Chicken Tikka
Cooked with fresh glazed tomatoes & onion, medium spiced
£7.95
Rogan Josh Duck
Cooked with fresh glazed tomatoes & onion, medium spiced
£10.95
Rogan Josh King Prawn
Cooked with fresh glazed tomatoes & onion, medium spiced
£10.95
Rogan Josh Lamb
Cooked with fresh glazed tomatoes & onion, medium spiced
£7.95
Rogan Josh Prawn
Cooked with fresh glazed tomatoes & onion, medium spiced
£8.25
Rogan Josh Vegetable
Cooked with fresh glazed tomatoes & onion, medium spiced
£5.95
Vindaloo Chicken
Very hot & spicy with potatoes
Very hot
£7.50
Vindaloo Duck
Very hot & spicy with potatoes
Very hot
£10.95
Vindaloo King Prawn
Very hot & spicy with potatoes
Very hot
£10.95
Vindaloo Lamb
Very hot & spicy with potatoes
Very hot
£7.95
Vindaloo Prawn
Very hot & spicy with potatoes
Very hot
£8.25
Vindaloo Vegetable
Very hot & spicy with potatoes
Very hot
£5.95
Phall Chicken
Extremely hot
£7.50
Phall Chicken Tikka
Extremely hot
£7.95
Phall King Prawn
Extremely hot
£10.95
Phall Prawn
Extremely hot
£8.25
Phall Vegetable
Extremely hot
£5.95
Pathia Chicken
Hot, sweet & sour
Hot
£7.50
Pathia Chicken Tikka
Hot, sweet & sour
Hot
£7.95
Pathia Duck
Hot, sweet & sour
Hot
£10.95
Pathia King Prawn
Hot, sweet & sour
Hot
£10.95
Pathia Lamb
Hot, sweet & sour
Hot
£7.95
Pathia Prawn
Hot, sweet & sour
Hot
£8.25
Pathia Vegetable
Hot, sweet & sour
Hot
£5.95
Kashmiri Chicken
Cooked in a fruity, creamy sauce
Contains nuts
£7.50
Kashmiri Chicken Tikka
Cooked in a fruity, creamy sauce
Contains nuts
£7.95
Kashmiri Duck
Cooked in a fruity, creamy sauce
Contains nuts
£10.95
Kashmiri King Prawn
Cooked in a fruity, creamy sauce
Contains nuts
£10.95
Kashmiri Lamb
Cooked in a fruity, creamy sauce
Contains nuts
£7.95
Kashmiri Prawn
Cooked in a fruity, creamy sauce
Contains nuts
£7.95
Kashmiri Vegetable
Cooked in a fruity, creamy sauce
Contains nuts
£5.95
Madras Chicken
Fairly hot curry
Hot
£7.50
Madras Chicken Tikka
Fairly hot curry
Hot
£7.95
Madras Duck
Fairly hot curry
Hot
£10.95
Madras King Prawn
Fairly hot curry
Hot
£10.95
Madras Lamb
Fairly hot curry
Hot
£7.95
Madras Prawn
Fairly hot curry
Hot
£8.25
Madras Vegetable
Fairly hot curry
Hot
£5.95
Korma Chicken
Cooked in a mild, rich, thick sauce with cream & coconut
Contains nuts
£7.50
Korma Chicken Tikka
Cooked in a mild, rich, thick sauce with cream & coconut
Contains nuts
£7.95
Korma Duck
Cooked in a mild, rich, thick sauce with cream & coconut
Contains nuts
£10.95
Korma King Prawn
Cooked in a mild, rich, thick sauce with cream & coconut
Contains nuts
£10.95
Korma Lamb
Cooked in a mild, rich, thick sauce with cream & coconut
Contains nuts
£7.95
Korma Prawn
Cooked in a mild, rich, thick sauce with cream & coconut
Contains nuts
£8.25
Korma Vegetable
Cooked in a mild, rich, thick sauce with cream & coconut
Contains nuts
£5.95
Bhuna Chicken
Cooked in a thick sauce with tomatoes & coriander, medium strength
£7.50
Bhuna Chicken Tikka
Cooked in a thick sauce with tomatoes & coriander, medium strength
£7.95
Bhuna Duck
Cooked in a thick sauce with tomatoes & coriander, medium strength
£10.95
Bhuna King Prawn
Cooked in a thick sauce with tomatoes & coriander, medium strength
£10.95
Bhuna Lamb
Cooked in a thick sauce with tomatoes & coriander, medium strength
£7.95
Bhuna Prawn
Cooked in a thick sauce with tomatoes & coriander, medium strength
£8.25
Bhuna Vegetable
Cooked in a thick sauce with tomatoes & coriander, medium strength
£5.95
Bombay Chicken
Medium spiced curry, cooked with potatoes, boiled egg & fresh coriander
£7.50
Bombay Chicken Tikka
Medium spiced curry, cooked with potatoes, boiled egg & fresh coriander
£7.95
Bombay Duck
Medium spiced curry, cooked with potatoes, boiled egg & fresh coriander
£10.95
Bombay King Prawn
Medium spiced curry, cooked with potatoes, boiled egg & fresh coriander
£10.95
Bombay Lamb
Medium spiced curry, cooked with potatoes, boiled egg & fresh coriander
£7.95
Bombay Prawn
Medium spiced curry, cooked with potatoes, boiled egg & fresh coriander
£8.25
Bombay Vegetable
Medium spiced curry, cooked with potatoes, boiled egg & fresh coriander
£5.95
Balti Chicken
Balti dishes are prepared with an exotic selection of fresh spices & herbs, providing a dish with thicker & richer distinctive flavour
£7.50
Balti Chicken Tikka
Balti dishes are prepared with an exotic selection of fresh spices & herbs, providing a dish with thicker & richer distinctive flavour
£7.95
Balti Duck
Balti dishes are prepared with an exotic selection of fresh spices & herbs, providing a dish with thicker & richer distinctive flavour
£10.95
Balti King Prawn
Balti dishes are prepared with an exotic selection of fresh spices & herbs, providing a dish with thicker & richer distinctive flavour
£10.95
Balti Lamb
Balti dishes are prepared with an exotic selection of fresh spices & herbs, providing a dish with thicker & richer distinctive flavour
£7.95
Balti Prawn
Balti dishes are prepared with an exotic selection of fresh spices & herbs, providing a dish with thicker & richer distinctive flavour
£8.25
Balti Vegetable
Balti dishes are prepared with an exotic selection of fresh spices & herbs, providing a dish with thicker & richer distinctive flavour
£5.95
Dansak Chicken
Hot, sweet & sour cooked with lentils
Hot
£7.50
Dansak Chicken Tikka
Hot, sweet & sour cooked with lentils
Hot
£7.95
Dansak Duck
Hot, sweet & sour cooked with lentils
Hot
£10.95
Dansak King Prawn
Hot, sweet & sour cooked with lentils
Hot
£10.95
Dansak Lamb
Hot, sweet & sour cooked with lentils
Hot
£7.95
Dansak Prawn
Hot, sweet & sour cooked with lentils
Hot
£8.25
Dansak Vegetable
Hot, sweet & sour cooked with lentils
Hot
£5.95
Dupiaza Chicken
Cooked in a thick sauce with fried onion, medium spiced
£7.50
Dupiaza Chicken Tikka
Cooked in a thick sauce with fried onion, medium spiced
£7.95
Dupiaza Duck
Cooked in a thick sauce with fried onion, medium spiced
£10.95
Dupiaza King Prawn
Cooked in a thick sauce with fried onion, medium spiced
£10.95
Dupiaza Lamb
Cooked in a thick sauce with fried onion, medium spiced
£7.95
Dupiaza Prawn
Cooked in a thick sauce with fried onion, medium spiced
£8.25
Dupiaza Vegetable
Cooked in a thick sauce with fried onion, medium spiced
£5.95
Vindaloo Chicken Tikka
Very hot & spicy with potatoes
Very hot
£7.95
Wednesday Banquet - Regular
£11.95
Wednesday Banquet - Seafood
Lunch & dinner
4 Course meal
Poppadom
Starter
Main dish
Rice or naan
£14.94
Keema Nan
Stuffed with mince meat
£2.65
Malai Keema Nan
Cheese, onion & mince meat
£2.75
Peshwari Nan
Coconut & almond
Contains nuts
£2.65
Nawabi Nan
Stuffed with mince chicken
£2.65
Contact Us
Find Us
2 Hazlemere Cross Roads, High Wycombe, HP157LG
We deliver to
HP10, HP11, HP12, HP13, HP15, HP16, HP6